CELEBRATING 22 YEARS IN BUSINESS!

Welcome to Goebel Hearing Center
Goebel Hearing Center offers comprehensive hearing testing by a Board Certified licensed clinical audiologist. Specializing in adult digital hearing aid fittings. Also we offer hearing aid repairs and free hearing aid cleanings. Hearing aid battery sales and assistive listening devices. We have all styles of hearing aids and all levels of technology. We offer the latest technology, including hearing aid wireless and hearing aid Bluetooth compatibility, at affordable prices. Goebel Hearing Center can make many custom products including musician monitors, swim molds and custom ear protection. All of our hearing aids have a 3 year warranty and our full money back trial period assures satisfaction.
All testing is performed in a certified sound booth and fittings are verified with speech mapping.


Julie Goebel, shown left and Assistant Beth, shown right
Congratulations Beth!
After 18 years, Beth will Semi-Retire January 1, 2023.
We are very happy that she will remain here part-time.
Committed to our patients satisfaction!
FEATURED PRODUCT- Phonak Audéo™ Lumity

Conversations shine with Lumity
Introducing Audéo Lumity with unique Phonak SmartSpeech™ Technology for improved speech understanding. Fully immerse in conversations around you and enjoy easier hearing in many situations.

Available in a range of colors
Improved speech understanding in noisy environments
Reduced listening effort
Universal connectivity to iOS®, Android™ and other Bluetooth® enabled devices
Waterproof* (Audéo LifeTM Lumity)
Health data tracking
Personalized noise cancelling
Access voice assistant apps with a tap

What is SmartSpeech Technology?
SmartSpeech Technology is a unique collection of features, designed to deliver the benefits of improved speech understanding and reduced listening effort in various listening environments for those with a hearing loss.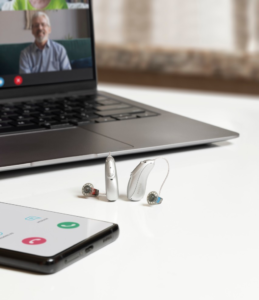 Connect with the world around you
Phonak Lumity provides connectivity to iOS® and Android™ smartphones, TVs, Roger devices and wireless accessories.
Universal connectivity enables your Phonak Lumity hearing aids to seamlessly connect to all of your favorite devices. Make true hands-free calls and pair up to eight Bluetooth® enabled devices, while two are simultaneously connected.

Phonak Audéo Life™ Lumity
The second generation of the world's first waterproof* rechargeable hearing aid can be submerged in up to ½ a meter of fresh, pool or salt water.
It's the ideal solution for people who would like to understand speech well even in physically demanding environments or those looking for a hearing aid that will withstand strenuous activity. Light up your hearing confidence!
Featuring Products From
"I would recommend Goebel Hearing Center to anyone wanting to improve their hearing needs. Without Julie's help I wouldn't be where I am today. Thank you Julie and staff for all that you have done for me."
Read Our Patient Testimonials >>